This post contains affiliate links.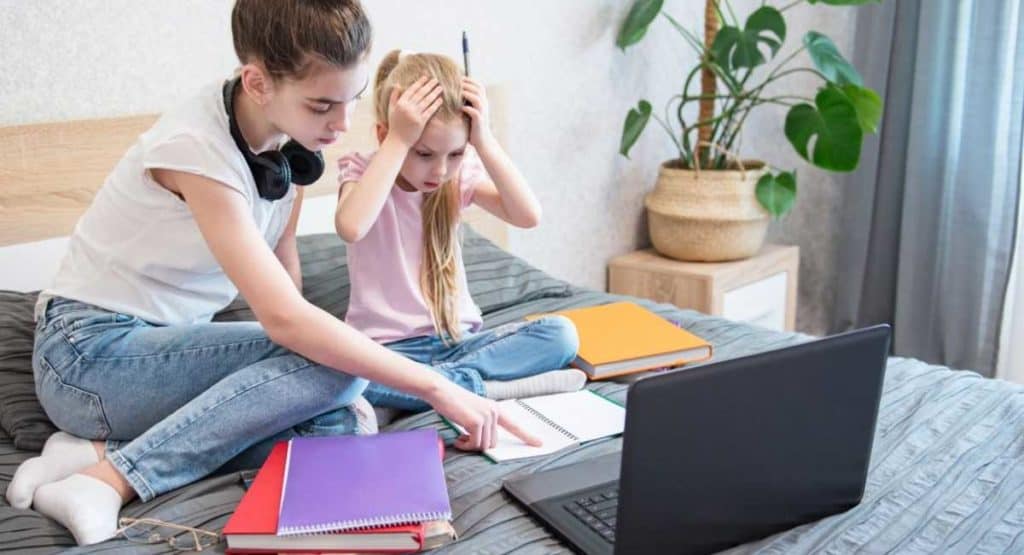 When I started homeschooling – I was overwhelmed.
"Fifty Things You Need to Know to Start Homeschooling"
"200 Ways To Keep Your Child On Track"
"How To Know You're Not Failing at Homeschooling"
Ugh – it was too much and what I've come to learn is there are really only a few things you need to know to get started on your homeschool!
What do you REALLY need to know to start homeschooling?
You need to know your state guidelines, your style, and your curriculum options (and don't worry – none of these are final – particularly curriculum choices!)
First – hear me now – You CAN homeschool
Many parents wonder if they are smart enough, organized enough, you name it, every homeschooling parent has their doubts – but you can do it! You've taught your child so many important things – as I told one friend of mine – you taught your child how to speak and how to use the bathroom – you can do this too!
Now that that's out of the way, what is the first step?
Know Your State Guidelines
There are no national guidelines for homeschooling. Each state has specific guidelines, ranging from very relaxed with very little oversight to very strict days required. To find your state guidelines, visit www.hsldla.org/legal. In addition to the actual state guidelines, I strongly recommend that you find homeschoolers in your state to learn more about the actual ins and outs of how your state works.
I homeschool in Maryland, so I'm part of the Maryland Homeschoolers group on Facebook – there are tons of veteran homeschoolers who give great guidance, advice, and more. I've connected with other families, learned about upcoming events, Co-op opportunities and so much more. We hope to share more about options in your state soon.
In most states, you'll need to provide some type of review or evaluation or testing for the state (unless you're one of the lucky ones who only has to submit a letter of intent). In those states, you can join what is called an umbrella. Umbrellas basically work as a go-between for you and the state. You pay the umbrella to handle the filing of paperwork, reviews, etc., so you can focus on homeschooling. You'll report to the umbrella, but this is generally stress free.
Know your Homeschool Style
Now that you know the guidelines, what style of homeschool do you want? Charlotte Mason? Classical? Unschooling? Maybe you're wondering what all of this means?? There are seven primary categories of Classical, Charlotte Mason, Montessori, Unschooling, School-at-home, Unit Studies and Eclectic education. Having an idea of what best suits you will help you with the last thing – curriculum choices.
Classical: Classical homeschooling style uses the classic works to teach children to become lifelong learners. It generally involves learning through a multi-subject approach to all learning.
Unschooling: Unschooling is often described as a "laid-back" approach to learning that uses student led activities and interests as learning opportunities.
Charlotte Mason: Charlotte Mason is quoted as saying"Education is an atmosphere, a discipline, a life. The Charlotte Mason approach involves educating the whole person, through the home environment, creation of good habits of character and using "living" books, not textbooks, to encourage passion for learning.
Montessori: The Montessori method is often seen in preschools and is a student focused approach lots of unstructured play time and engaging children of various ages and abilities into classes based on interests. Montessori involved lots of hands-on work with toys, manipulatives, counting games, etc., to relay information.
School-at-home: Basically what it sounds like – replicating the public/private school experience at home. This is now the most recognizable approach as it was what really happened during the 20-21 school year for most, due to COVID. This is structured, with a formal curriculum, schedule, etc.
Unit Studies: Again, much like what it sounds – creating a theme of study, or unit, that includes many or most of the required courses. For example, my boys love baseball, so we used baseball for Geography (identify city/states of MLB teams), history (baseball has big connects to large sections of US history and racial history), math (all the stats), language (writing prompts on play-offs, what makes a better team). We did this during the fall and the MLB playoffs, as it was also current events (and gave them an excuse to watch the games!)
Eclectic: And this is where I land – eclectic – or a little bit of everything. I have yet to find a curriculum or method that works for us for everything. I do love some "boxed" curriculum for certain subjects, other curriculum options for still other subjects and create my own for some. Many families land here because they need something a little different for each child.
This is a very quick overview – if you want to dig deep – you can learn more here.
Find Your Curriculum
As you can imagine, there are multiple options in each of the categories listed above and there are generally two primary concerns that guide the curriculum selection process for most families: secular or religious and budget. In response to each of these concerns, there are just as many secular options as there are religions options and when it comes to budget, you can spend as much or as little as you want.
More expensive options include online programs that offer video instruction. These include secular options like Acellus Academy and Power Homeschool and religious options like Abeka and Bob Jones University.
On the other end of the spectrum, you can use free programs, Khan Academy (includes video instruction) and SAS Curriculum Pathways for those looking for secular options and Easy Peasy or The Good and the Beautiful (LDS).
This is truly just the tip of the iceberg for curriculum options. Learn more about full curriculum online options here or for more exhaustive lists (and reviews) of homeschooling curriculum options, visit CathyDuffyReviews.com.
Now you've got a good handle on where to start! You're ready to make a decision that meets the needs of your child, your family and of course, you…and to shop for some fun school supplies!